The secret of Svatý Petr
A territory not discovered by tourists yet. An oasis of peace and silence where one can experience the real and authentic Krkonoše mountains. A modern 6-seater chairlift operates to the very summit of Mt Pláň to help you save energy that will come in useful once you are up.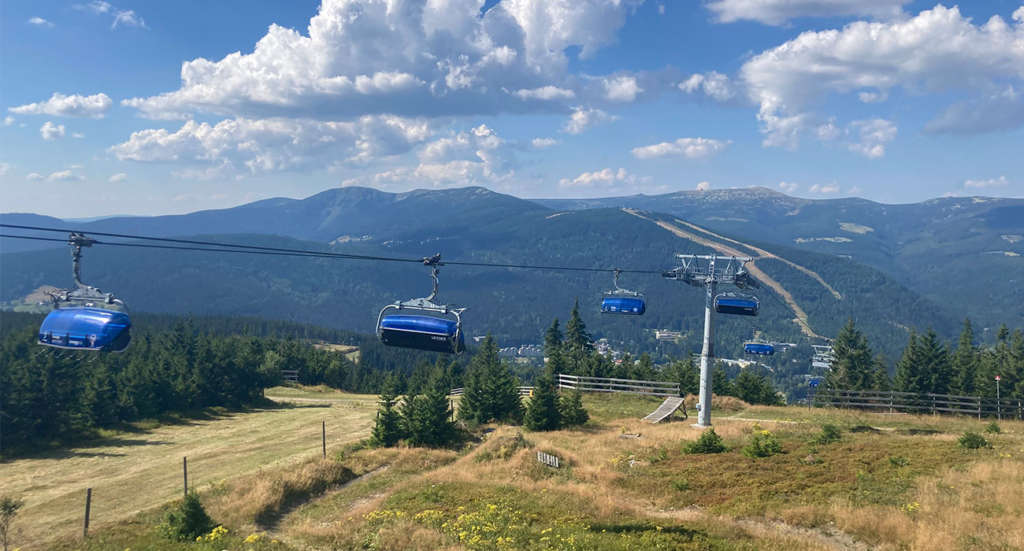 Jewels of Krkonoše in one picture
Most tourist destinations of the mountain range can be seen from Mt Pláň: Mt Kotol, Zlaté návrší (Golden hill), Labská búda (cottage) and Medvědín with all its beauty reminding of Eiffel's tower but also the so called Snow Pits, Mt Violík, Mt Vysoké kolo and well-known cottages.
The best place to make a refreshment break and take some pictures
At the upper chairlift station, there is the panoramic Na Pláni restaurant. Anything you choose from the menu will taste good on the big outdoor terrace or inside. There are glass walls so beautiful views are guaranteed there as well.
… so let's go!
Everybody will love a trip around authentic locations of the Krkonoše Mts. and cottages known as Klínové boudy. You will feel like the world stopped for a moment. On the way back to Špindlerův Mlýn, the trail runs along the foot of Mt Stoh and offers breathtaking views of the Kozie chrbty hills and a unique view of the valley of Svatý Petr that you probably haven't experienced yet.
Špindlerúv mlýn
One-way ticket
One-way ticket up or down applicable on the Medvědín or Svatý Petr chairlift
Buy