Winter hiking and the fairytale snow-covered country offer a lot of joy and nice memories. However, winter conditions can sometimes give us a hard time. That's why nothing should be underestimated so that we can enjoy our hike safely. Let's take a look at what's important to think about when hiking in winter.
Winter clothing and equipment
Deep snow, ice and freezing weather but also thaw, mud and unpleasant wind. Outdoor conditions can be much more difficult in winter, so it's much harder to walk around the mountains than in other seasons of the year. Every tourist needs not only proper clothing but also necessary equipment. All this depends on the chosen tourist trail, weather and conditions, the terrain and the physical form.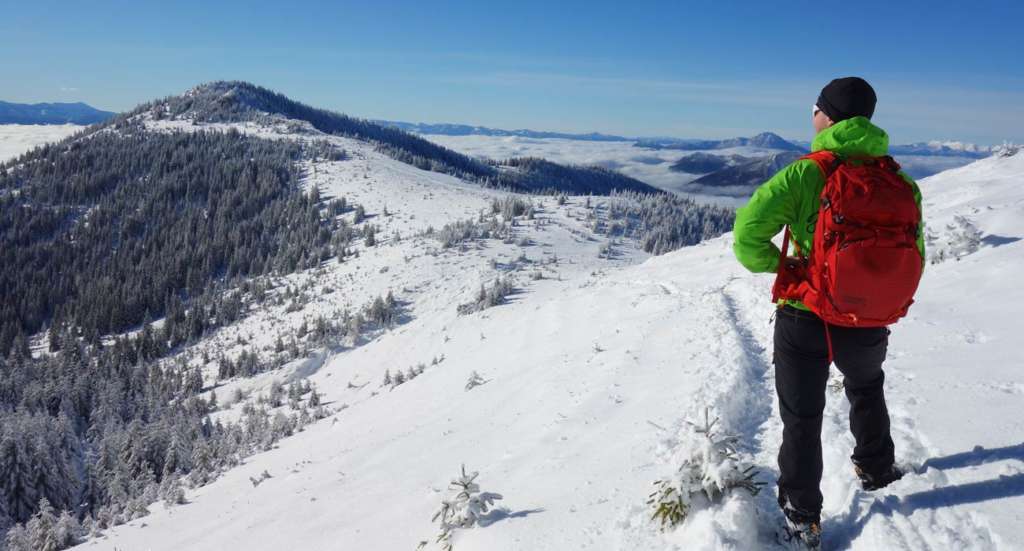 01 Hiking equipment
When making a winter hiking trip, we should wear high-ankle hiking boots and combine them with gaiters, crampons and snowshoes if required due to the conditions. Gaiters serve to prevent snow from falling under the trousers and inside the boots, which would be very uncomfortable. Climbing crampons can be used if there is ice on the trail or the terrain is slippery to avoid injury. When there is a lot of fresh snow on our trail, we can use snowshoes which help us not to break through the snow and to save energy.
Extra equipment should be taken into consideration as well, e.g. poles that could be very helpful in any conditions in the mountains. In extreme conditions in alpine terrain, a climbing axe is a natural thing. When relaxing in the mountains in winter or in spring, everything is usually covered with snow, so an insulating seat pad comes in handy to protect from frost, cold and soil moisture. A cup of warm tea from a vacuum flask feels fine too and don't forget that our eyes should be protected with proper sunglasses at high altitudes in sunny weather. And as the days are shorter in winter, a headlamp shouldn't be missing in your backpack either. You can never be sure not to get caught by the dark.
Safety comes first so don't underestimate anything and watch a video about winter equipment that will help you plan your hiking trip.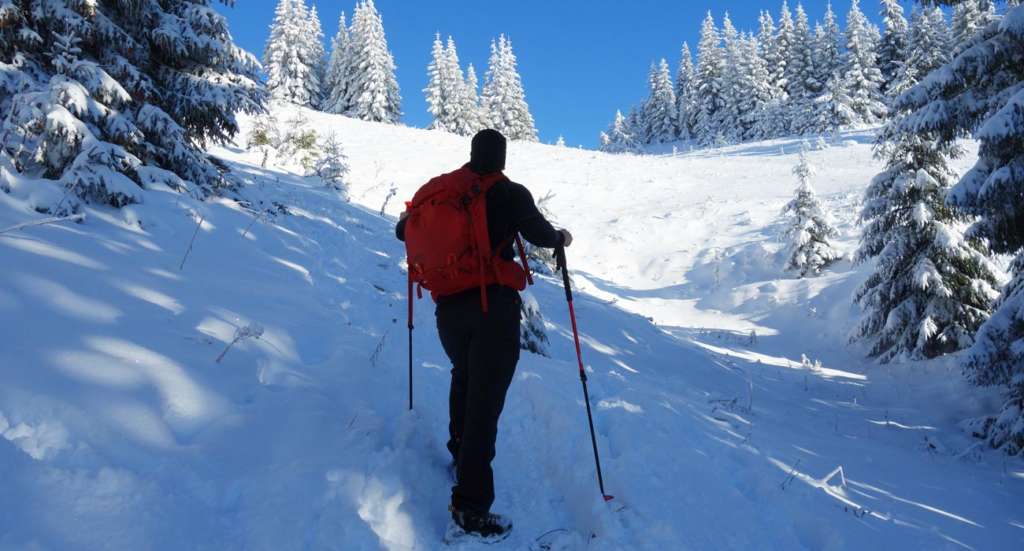 02 Layering as the basic clothing system
Conditions, weather, the type and the intensity of your activity play an important role when choosing what to wear. If we want to stay dry and warm while hiking, appropriate layering is crucial. That's why the best is to choose several quality layers that can be combined as required in the course of the hike and adapted to what the tourist needs at that moment. To learn more about this topic, a video above clothing layering in the mountains might help you.
The base layer is the basic element, i.e. a quality thermal T-shirt that wicks sweat off the skin and offers necessary warm comfort. There are several kinds of thermal T-shirts so choose based on the intensity of your activity and the conditions outside. More demanding tourists should invest in more quality thermal underwear that they will appreciate in cold weather for sure.
Then the second layer follows, i.e. a fleece or soft shell jacket or another type of functional jacket. It's a breathable layer designated for performing an activity, i.e. primarily for going uphill.
The insulating layer is the third one, i.e. a duvet or synthetic insulated jacket. If we perform an intensive activity, such type of a jacket is put on usually on top of the hill, but the situation in the mountains may change very quickly so insulating jackets can be used also during the ascent. If we do something not very physically demanding, such a jacket can be worn all day long.
The shell layer shouldn't be missing in our backpack either. It serves to protect us from rain, snow or wind. That's why we should choose a waterproof or windproof jacket or a combination of both.
If you get yourself all layers, these can be combined as you need in individual moments. And don't worry. They can be used all year round, not only in winter.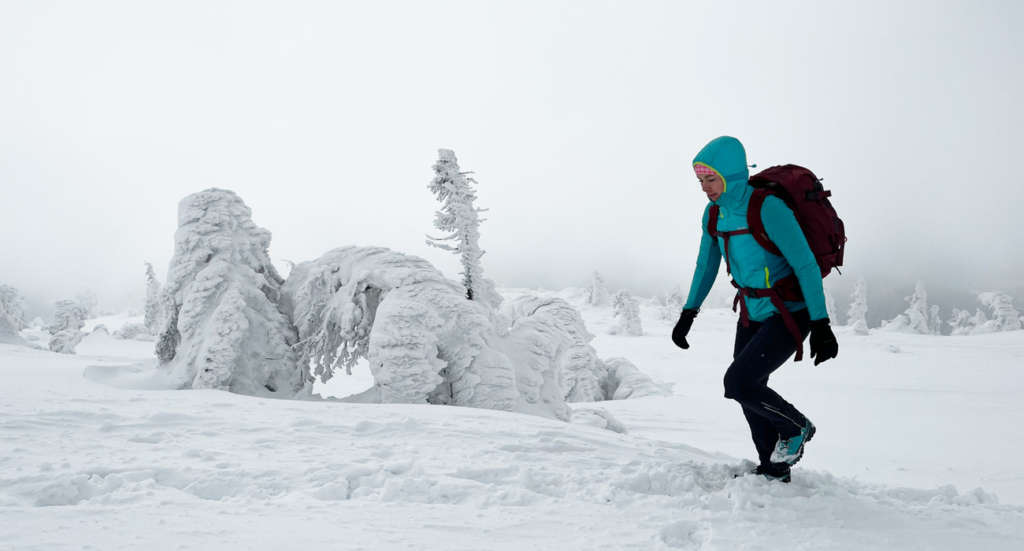 03 Conditions and weather in the mountains
Hiking in beautiful sunny weather without wind is the dream of every tourist of course, but the conditions are usually changeable and one should be ready for everything. There might be heavy snowfall, strong wind gusts or freezing temperatures while hiking. All this makes it much more difficult to walk in alpine terrain. That's why the best is to check the weather forecast in the evening before the hike, preferably using several sources and adapt the hiking plans appropriately.
When we set out for more difficult alpine terrain, the avalanche situation should never be underestimated. The best is to choose areas with minimum avalanche danger. If you plan a winter hiking trip to unknown terrain, visit the website: laviny.sk, where avalanches are mapped and followed, and get information in advance so that you can prepare yourself properly. Listen to a conversation with an avalanche specialist and learn more about how to stay safe in the mountains.
And if you still decide to go somewhere where the avalanche danger is higher, don't forget that tourists should have avalanche equipment too. This helps find and save people who get swept up in an avalanche. The equipment should include an avalanche beacon, an avalanche shovel and an avalanche probe which should always be in your backpack in difficult terrain.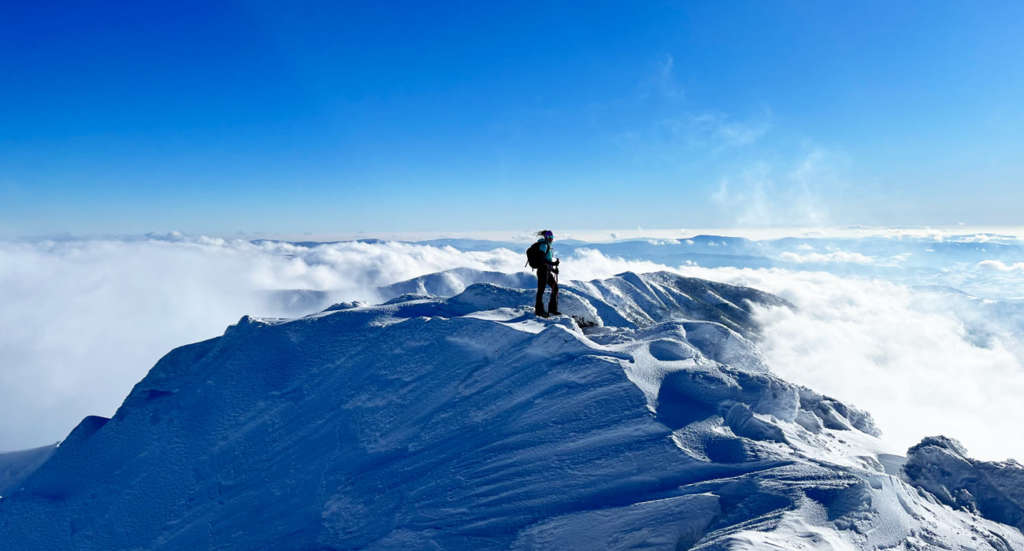 04 Where to set out for hiking?
There are lots of hiking trip options in Slovakia also during the winter trail closure which begins on 1st November and ends on 14th June and serves to let animals and nature relax. Several easy to more difficult hiking trails are open also in winter.
In the High Tatras, all alpine chalets except the Chalet below Mt Rysy are accessible in winter. This means that Chalet at Popradské pleso, Rainer's hut, Zamkovský's chalet, Zbojnícka chalet, Téry's chalet, Chalet at Zelené pleso and Plesnivec chalet are open. In addition, one peak is accessible too – Mt Predné Solisko from Štrbské Pleso. Get inspired e.g. by our winter hiking tour around 5 cottages in the Tatras which we made more comfortable at the end by taking a cable car on the way down from Skalnaté pleso. As the days are shorter in winter, it's practical to travel with cable cars to save time. What's more, Gopass offers nice discounts. Read the article on MTHIKER.sk to learn which trails are open in other national parks and why it is important to respect the winter trail closure.
Don't forget that when hiking in winter, our organisms can get exhausted twice as much when compared to other seasons of the year. Low temperatures and difficult snow-covered terrain play an important role and can increase the risk. That's why we should choose well-trodden trails. If we set out for a tourist trail that is not frequently visited in winter or where there are no trees for the most part, we will have to tread the trail by ourselves, which might be very energy-consuming.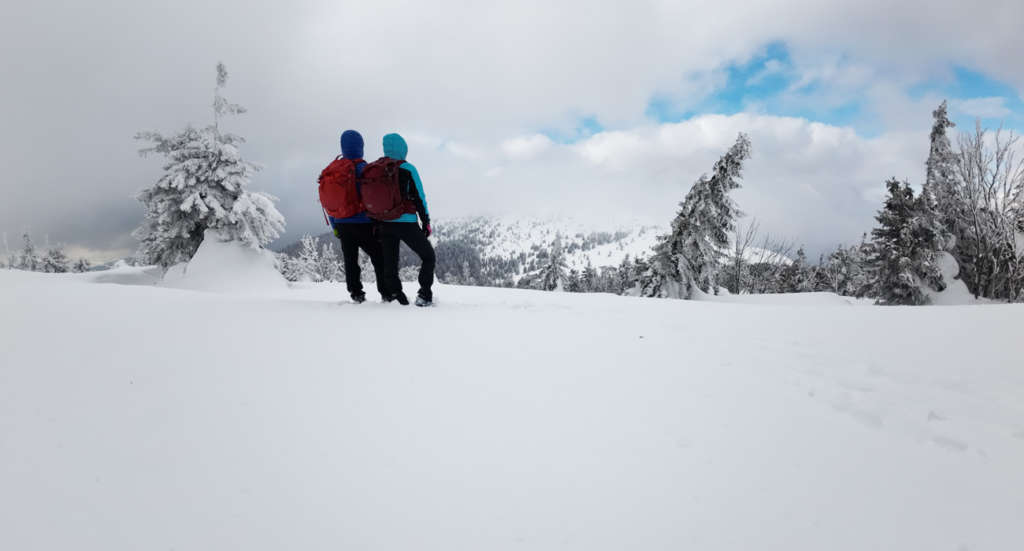 This article has been created in cooperation with MTHIKER.sk. To find useful suggestions on where to make a trip, check their magazine. To buy the necessary clothing and equipment, visit the MTHIKER outdoor shop.