Preparations are nearing their climax! Ski on new pistes in Špindlerův Mlýn soon. There are lots of new things planned for the season.
Parts of two brand-new pistes will be available and existing pistes will be considerably wider. And all this will be supported by top modern snowmaking systems. 300 million Czech crowns have been invested in the ski resort development.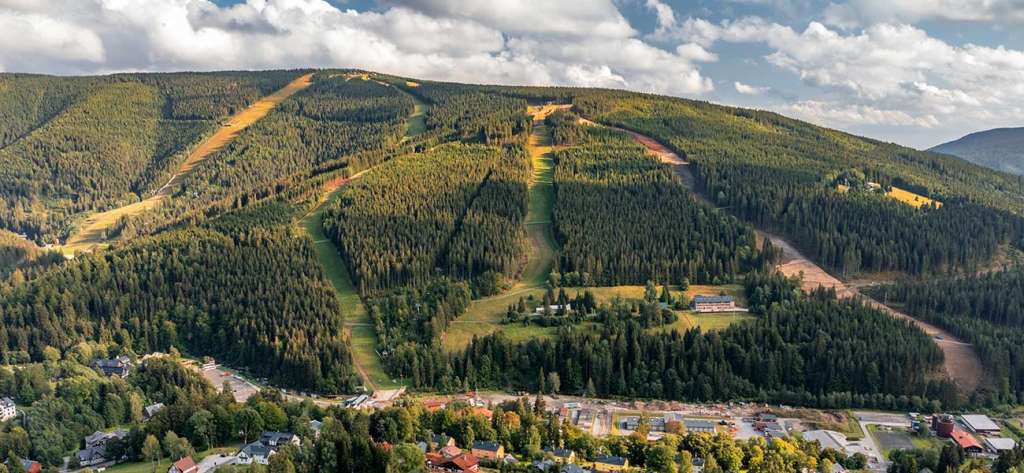 The project of interconnecting the areas of Svatý Petr and Medvědín in Špindlerův Mlýn had been discussed for a long time. And after years of preparations and collecting required permissions, it could finally begin this year. 2,350 metres of new pistes and generous terrain modifications of the original ones will guarantee more space for skiing and a much better sports experience.
New in Hromovka and also in Svatý Petr
What is it specifically that has changed in Špindl? Let's begin at the upper Hromovka station, which you won't recognise this year. This is where a brand-new red piste called "Přehradní" will start and run to the future cable car terminal interconnecting Svatý Petr and Medvědín. This new red piste has a beautiful profile and will be fantastic to ski on although it won't be open to the very bottom this season yet. Approximately in the middle, skiers will change to a tourist trail that has been adapted so that everybody can continue from the Přehradní piste in absolute comfort back to the lower Hromovka station. This more than 1,750-metre-long and brand-new trail will extend the skiing options in the resort and improve its quality considerably.
And that's not all. The most popular piste in the Svatý Petr area of the resort has been widened essentially. This means trees have been cut there and the terrain has been modified in flat sections but mainly in several curves which used to be like a bottleneck before, i.e. too many skiers met in a too small section, which was dangerous. The blue piste is now flatter, 50 metres wide and there are some open and safe curves where one can see everything clearly. All skiers will appreciate this change for sure.
Transformation of the Vodovodná trail and a new piste in Medvědín
The side of Medvědín doesn't fall behind either. A new piste with a snowmaking system has been built there this year too and should be part of the interconnection between Medvědín, Hromovka and Svatý Petr soon. It is called "Lesní" and you can carve your turns on the 50-metre-wide piste already this winter if you turn from the red piste there. Lesní will cross the Vodárenská piste, which you can use to get back to the Medvědín chairlift. However, this new trail is much longer in reality and runs to the future cable car terminal as well.
And this is still not the end of the list of innovations. The trail known as Vodovodní, which served rather as an exit route between Mísečky and the lower Medvědín station before, has undergone a complex change. One could ski there only if the snow layer was thick enough in the past and now it is twice as wide as before. Actually, it can be considered a brand-new fully-fledged blue piste with a snowmaking system. As blue pistes are very popular in the resort, it will have snowmaking priority over others.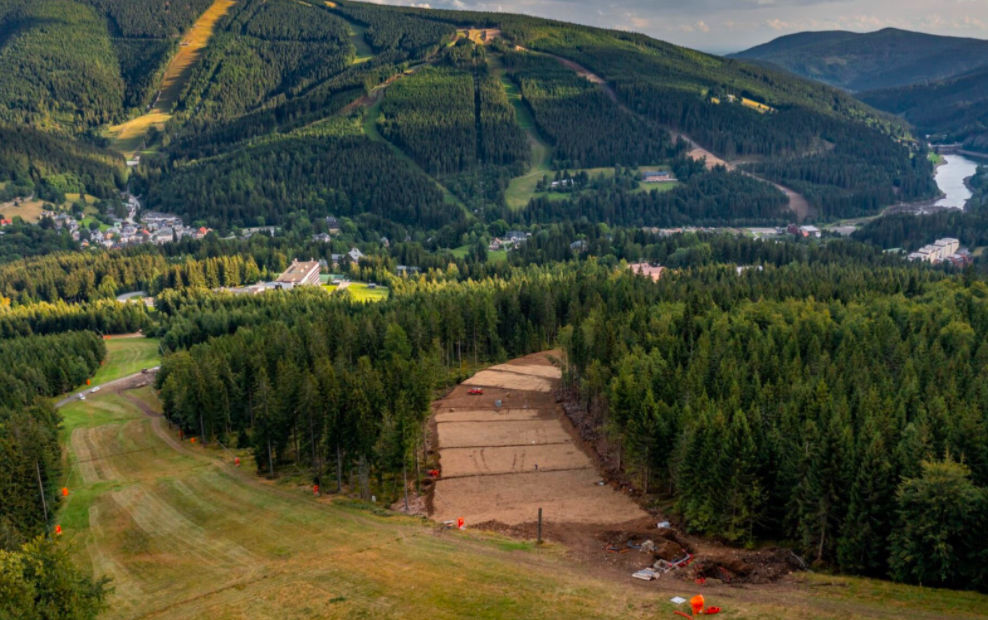 If you cannot wait to enjoy new skiing options in Špindlerův Mlýn, read more about the interconnection project before the ski season begins.