Combine hiking and rest with regeneration
A peaceful day spent on Mt Chopok and in Tatralandia is followed by an ascent to Mt Veľký Choč that ends in Bešeňová.
We set out from Valaská Dubová in the morning. The conditions don't seem to be very favourable, but we don't lose our spirit and hit the road without hesitating. Knowing that there won't be breathtaking views this time, we value such hikes even more because they can test the tourist morale perfectly.
We park our car at the local cemetery, walk through the village along an asphalt road to a forest path. The forest is beautiful, mysterious, hidden in the fog here and there. Raindrops join as soon and after the first kilometre, the rainfall becomes more intense.
Stone sea
We arrive under the cliffs of Soliská, where scree creates an interesting contrast with the dense conifer stand around.
We walk up a mild slope and although the mountain range is well known, we are alone all the time. So we give a little whistle once in a while. The weather doesn't get better and tests how much we as well as our clothes can stand. It starts to rain heavily and the higher we get, the more are the raindrops replaced by snowflakes. We reach the clearing of Stredná Poľana, which is already gently sprinkled with snow.
A meadow with a magical panorama
This meadow and the flawless mountain scenery around take my breath away every time. While taking a break, we see three young people approaching us so we make our way to the peak together. The snow amounts are growing, the views are considerably limited to only dozens of metres.
We reach the summit of Mt Veľký Choč, where one of the most beautiful round views of the Western and Low Tatras, the Malá Fatra Mts, the Veľká Fatra Mts. and the Liptovská Mara dam were supposed to be waiting for us. However, we enjoy the moment even with zero views. After not staying long, we head down again.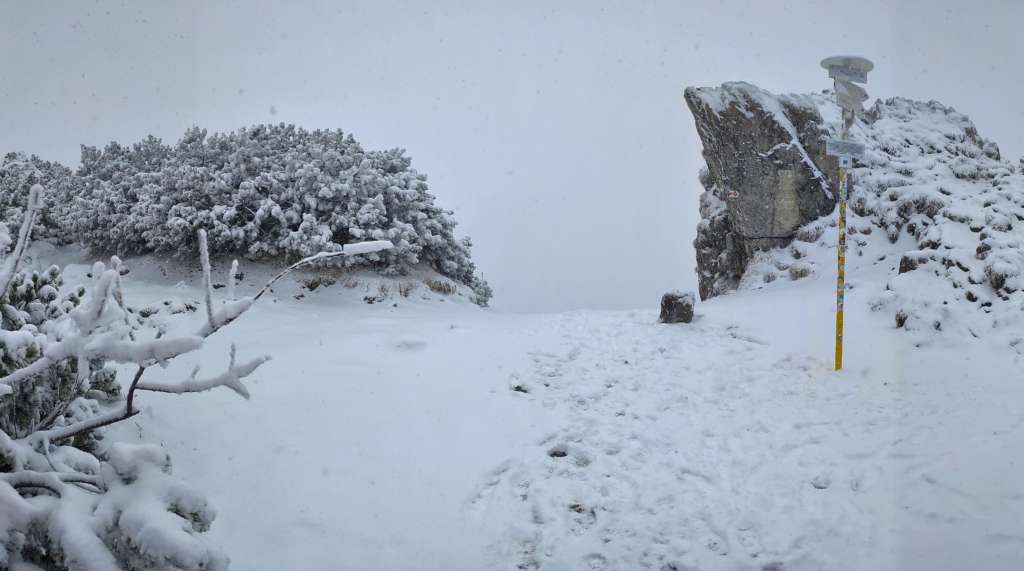 The path is slippery, muddy, with a layer of fresh snow. My friend is constantly falling down, I even stop counting how many times she slips 😊. The mountain pine stand is replaced by the forest where there was no sign a while ago that it might get white soon.
While walking to our car, the cold feeling is already uncomfortable. So we quickly change, put dry clothes on and head for a place where we know we can get warm, relax and regenerate.
Pampering in Bešeňová after the hike
We park our car at the water park after a short while. Still feeling a bit cold, we cannot wait to have a rest.
Benefits all year round
Let's discuss the main attractions and benefits that we can enjoy thanks to the Gopass card again. If you stay at the water park hotel resort, cable car tickets valid in the Vysoké Tatry and Jasná resorts plus Tatralandia water park tickets are included in the price automatically. Then it's only up to you how you combine your day. We choose thermal springs and a sauna world. The first plan of "relaxing only" is forgotten once we see a wave pool.
A touch of seaside
Once we catch sight of the wave pool, we don't hesitate and jump into the currents 😊. Is a very interesting attraction not only for kids but also for adults. We rest for a while near the pool and feel almost like by the sea while listening to the rustle of the waves. Next to the wave pool, there is a pool for kids with various slides, climbing frames and water fountains.
Then we try an indoor pool with underwater massage jets which are just perfect after our hike. Children can frolic on a giant water slide here.
One can relax in water but also on pool beds or in a special relaxation zone and read a book there or just laze. The air is full of nice aromas which emphasise the amazing atmosphere that helps us relax even more and enjoy the peace.
I can imagine myself falling asleep here, but our journey around this paradise continues to quench our thirst. That's why we head for an outdoor pool with a pool bar.
Healing pools
The temperature is really pleasant there and while sipping our drinks, underwater bubbles give us a nice massage.
After a while, we move to another outdoor thermal pool, which is even warmer. There are 4 outdoor pools in total, including a swimming pool. Everybody can find what they prefer and enjoy the beneficial thermal water effects.
Our bodies relax perfectly thanks to the healing water and underwater jets so we can relax our minds as well.
Harmony of relaxation and peace
We begin with alternating hot and cold therapy and cooling off in cold water afterwards. The range of dry and steam saunas is really wide here and everybody can choose what they like. Kids younger than 6 years can stay for free, which is a great benefit. The most modern dry sauna in Slovakia catches our attention the most. We join a sauna ritual there and can say it is an experience that everybody should enjoy 😊.
Cooling creativity
After the ritual, we cool off under an original endless waterfall. I love cold water and this kind of cooling is something I haven't experienced anywhere else yet so I appreciate the creativity as for the Cave of Bešeňová.
Free flow of thoughts
We allow ourselves to rest on beds overlooking the exterior and listen to relaxation music. There is also a fireplace where one can keep warm.
Diverse offer
I appreciate that drinking water is available everywhere to replenish lost fluids. And so is crushed ice, but you need to walk along a Kneipp path first. A wide choice of massages, treatments and rituals can be taken for granted, of course. Nights of sauna rituals with a varied programme are organised here once or twice a month.
The exterior is very nice, creates a peaceful and relaxing atmosphere. We try the outdoor whirlpool there and spend some moments under the stars.
Perfectly relaxed and regenerated, we leave the resort. Bešeňová offers more than just fun and healing baths. It's ideal to relax the mind and boost immunity too.
This article has been created in cooperation with MTHIKER.sk.
Relaxation in Bešeňová
If you want to relax after a difficult walk or hike, the Bešeňová water park is the ideal place to do so.