What comes to your mind when you hear the High Tatras?
Peaks, mountains, beautiful nature, no. 1 in tourism in Slovakia… and much more. And Tatranská Lomnica is definitely one of the best-known Slovak resorts in the High Tatras.
The pistes in Tatranská Lomnica can be seen from far away, even from the D1 motorway. And they also look like a giant motorway as they wind on various slopes that are connected and then divided. Everybody can enjoy themselves to the fullest while skiing in Tatranská Lomnica – beginners who are just acquainting themselves with this great kind of sport but also advanced skiers who look for steeper terrain.
Where can you go?
Tatranská Lomnica is the highest-located ski resort in Slovakia, as the upper chairlift station from where one can ski down a groomed piste is as high as 2,196 metres above sea level in Lomnické sedlo (saddle) at the foot of Mt Lomnický štít. As for the terrain difficulty, there are all 3 kinds of pistes – blue, red and black (yes, the black one runs down from Lomnické sedlo). They are arranged in sequential order, i.e. the blue piste is at the beginning, then a steeper red piste follows between Čučoriedky and Skalnaté pleso and the steepest black piste is located above Skalnaté pleso. The good news is that there have been new chairlifts in the resort for a longer time (I like them the most), and one of them is even heated, so nobody gets cold on the way up.
01 Štart station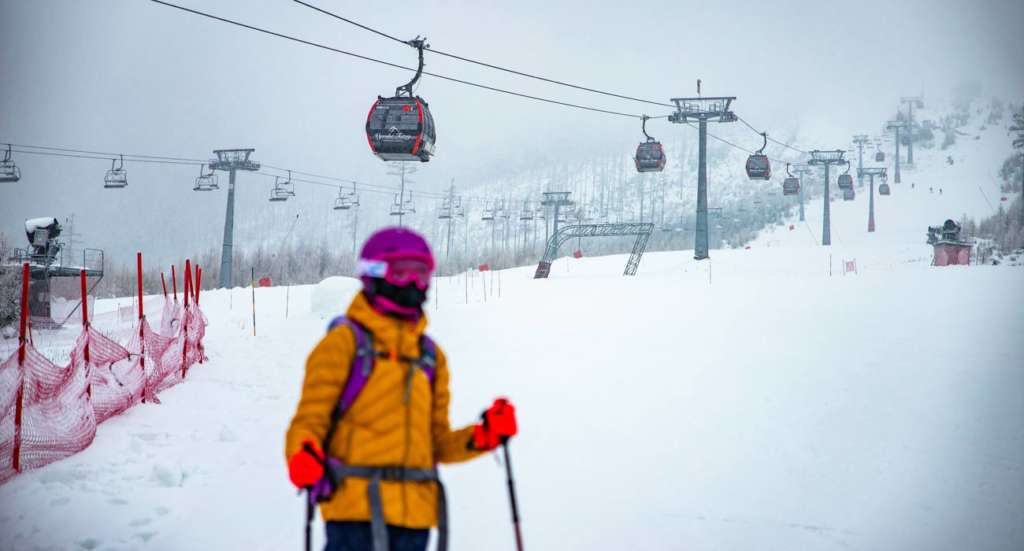 A cable car operates between Tatranská Lomnica and Skalnaté pleso. The section starting at the Čučoriedky station is modernised and offers more space. Skalnaté pleso (tarn) is located at the altitude of 1,754 m a.s.l. just below Mt Lomnický štít. It was originally a moraine lake and is known as a big attraction because one can travel by the already mentioned cable car there from Tatranská Lomnica. This is appreciated mainly by people who cannot discover the beauties of the Tatras on foot due to various reasons. This means that thanks to the modern amenities, almost everybody can enjoy the nature of the Tatras.
02 New Skalnaté pleso cable car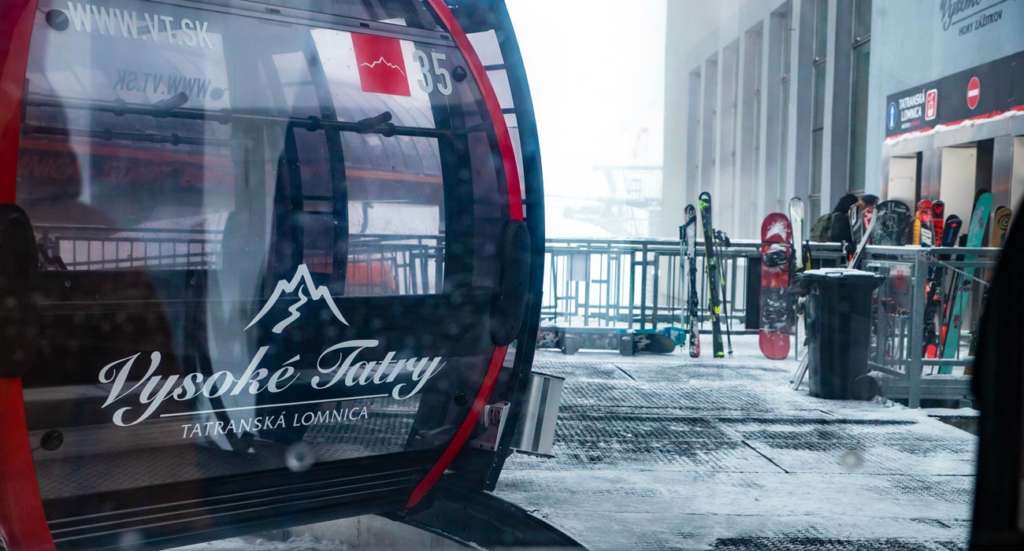 There is not only a restaurant and a cable car station near Skalnaté pleso but also an astronomical observatory near the surface of the tarn. It was established in 1943 and includes a meteorological station as well. A chairlift runs from Skalnaté pleso to Lomnické sedlo and a cable car to the top of Mt Lomnický štít.
03 Mt Lomnický štít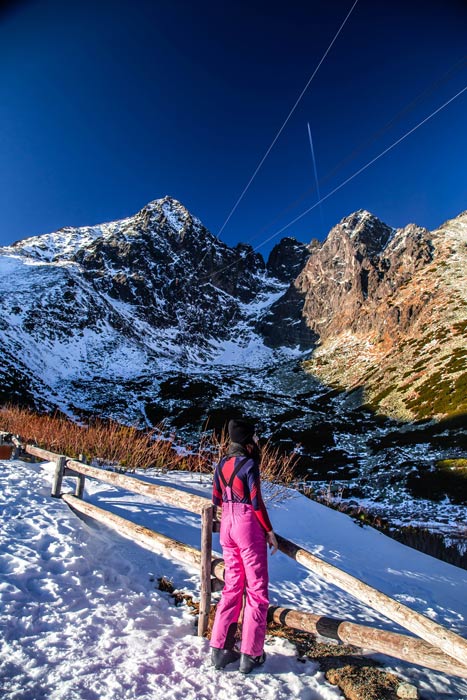 After travelling to or climbing Mt Lomnický štít, one can see another valley over the ridge to the west – Malá studená dolina with Téry's chalet and 5 Spišských plies (tarns). Tickets valid at all cable cars and chairlifts can be purchased online or in the resort, but only Gopass guarantees the best prices and so does the Gopass card, which offers a lot of other benefits such as water park relaxation, favourable season passes, combo-discounts.
04 Upper cable car station in Skalnaté pleso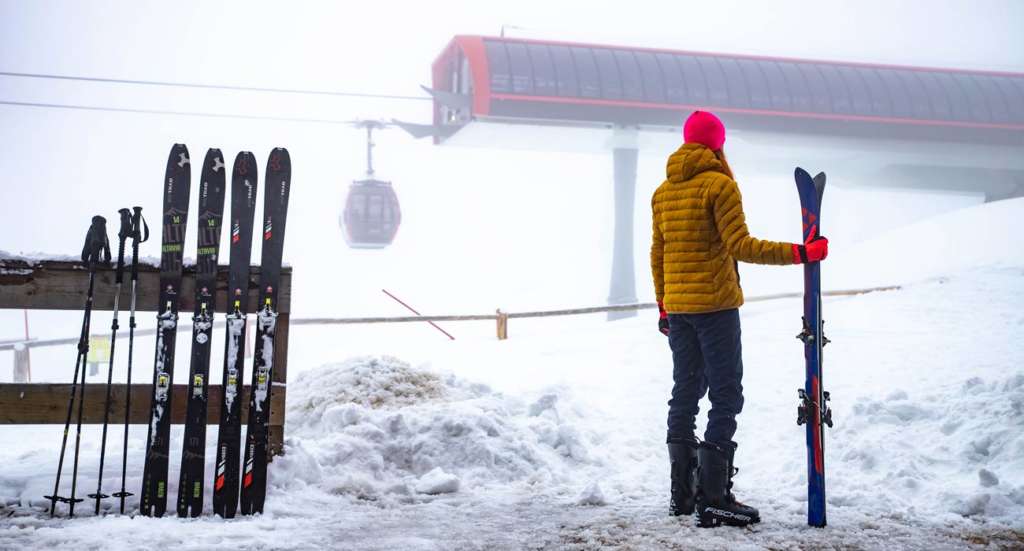 Trails for hikers
Those who prefer active relaxation and walking will love the variety of tourist trails that run to picturesque locations. One can follow a blue-marked trail from Tatranská Lomnica to the Waterfalls of Studený potok (brook), which are very popular (and easily accessible also from Hrebienok).
A green-marked trail runs from Tatranská Lomnica to Skalnaté pleso, where one can continue along the main Tatra tourist trail in two directions. To the north, the trail runs to the Chalet at Zelené pleso (tarn) (called also "Brnčalka") over the top of Mt Veľká Svišťovka. When descending from the top to the valley of Zelené pleso, everybody should be especially careful as the terrain is rather steep there (chains are attached to the rocks in some sections to help). But in winter, this top crossing trail is closed like many other trails in the Tatras from 1st November to 15th June.
Towards the south, the main Tatra tourist trails runs to Zamkovský's chalet, from where one can continue to Téry's chalet in Malá studená dolina or to Hrebienok (and turn to Veľká studená dolina and Zbojnícka chalet at the crossroads above Rainer's hut). One more blue trail leads from Skalnaté pleso below Mt Malá Svišťovka to Dolina Kežmarskej bielej vody (valley).
It's never a bad idea to change the plan
I enjoyed skiing in Tatranská Lomnica several times but mostly didn't get higher than the Čučoriedky station because I was always unlucky to choose a period with a lack of natural snow or the higher sections weren't covered with man-made snow yet.
05 Ski resort (the snow conditions in December were really bad)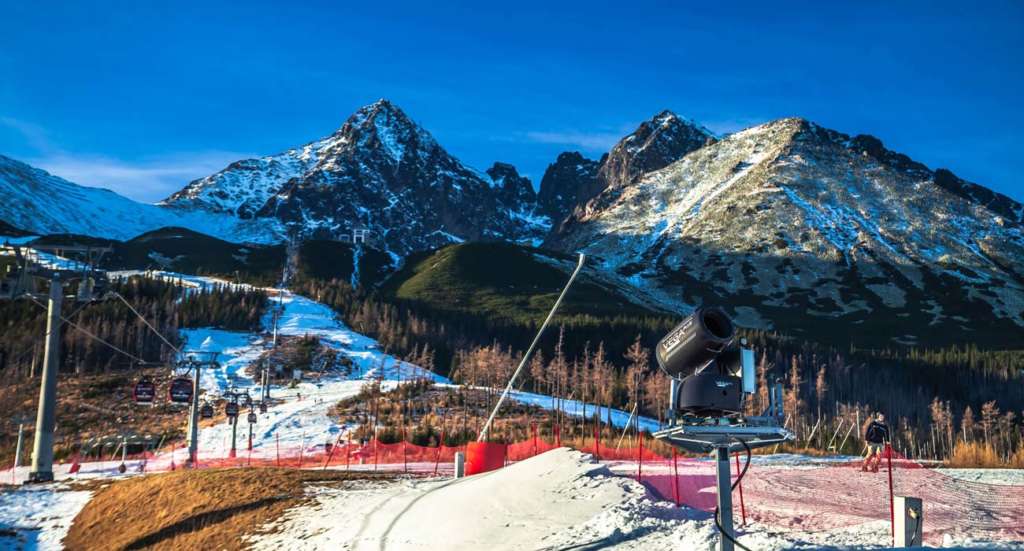 Now there is quite a lot of snow, but our plan was different. We took a cable car to Skalnaté pleso and wanted to continue along the already mentioned main Tatra trail to Zamkovský's chalet. The section is usually covered with a lot of snow in winter, so we decided to take touring skis and make a nice ski tour.
However, the weather played havoc with our plan.
06 Winter fairytale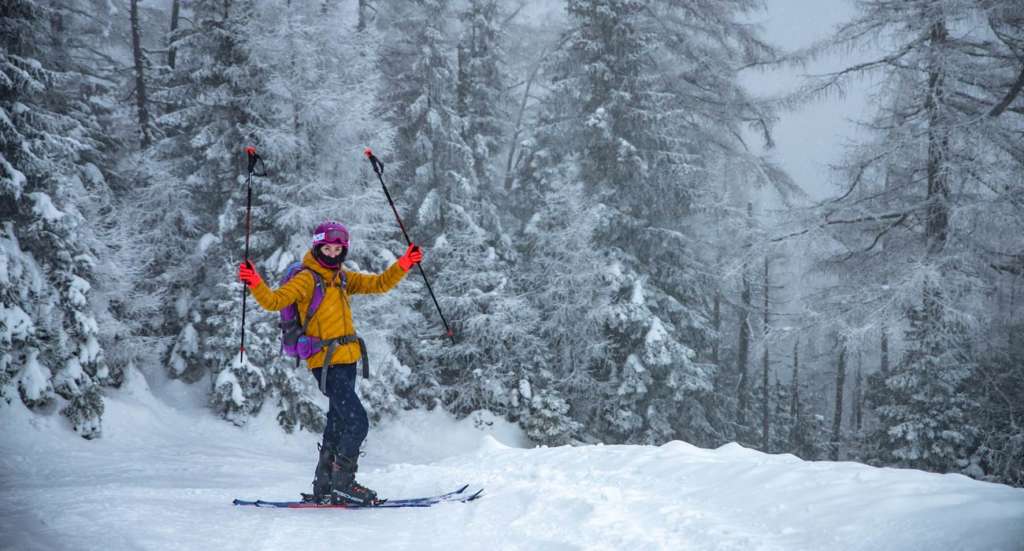 The fog was dense, it was also snowing, and the visibility was low (especially with the snow-covered country around, it felt like a white fog). So we thought our plans over and decided not to take unnecessary risks. We skied down from Skalnaté pleso (which was a premiere for me finally). But before, we had a cup of coffee below Mt Lomnický štít and warmed up a little.
07 Relaxation on the terrace in Skalnaté pleso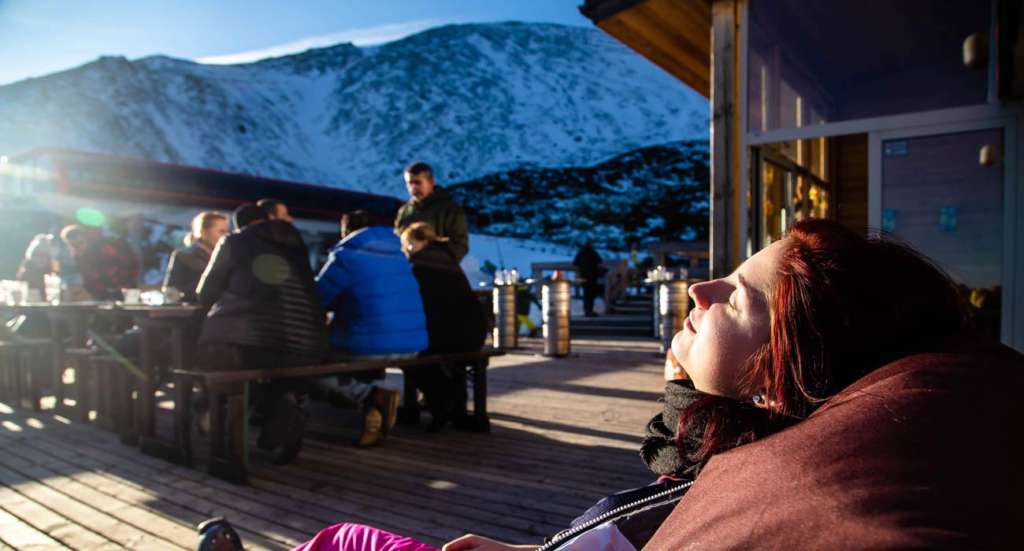 I don't like skiing in conditions where you may look around, in front of you, above you, next to you… and everything is of the same white colour and you're not sure where you're going. So I was very careful. The lower we got, the better the visibility and the more comfortable I felt on the skis.
Whether you visit Tatranská Lomnica in summer, in winter or any other season of the year, there is a lot to experience for everybody. Especially skiers will love it here in winter if the snow conditions are good and they can zip down the longest piste with the biggest vertical drop in Slovakia. 
This article has been created in cooperation with MTHIKER.sk.