Many people use skis not only to enjoy skiing but also to make ski tours. Is it ski mountaineering, though? Or do we perform ski touring?
The concept of this sport is simple – to walk up with skis on and to ski down. It sounds perfect and so it is. Climbing skins have to be attached to the bottoms of the skis before we start to climb up the hill. They're called skins because they were made of seal skin in the past. Today, skins are made of synthetic material, but the point is the same – preventing from sliding backward when climbing up the hill. After reaching the summit, the skins have to be removed, packed, the bindings setting has to be changed, then you step in the bindings with your ski boots and you can ski down. Easy, isn't it? But is it really? Well, depending on the ski touring version we choose.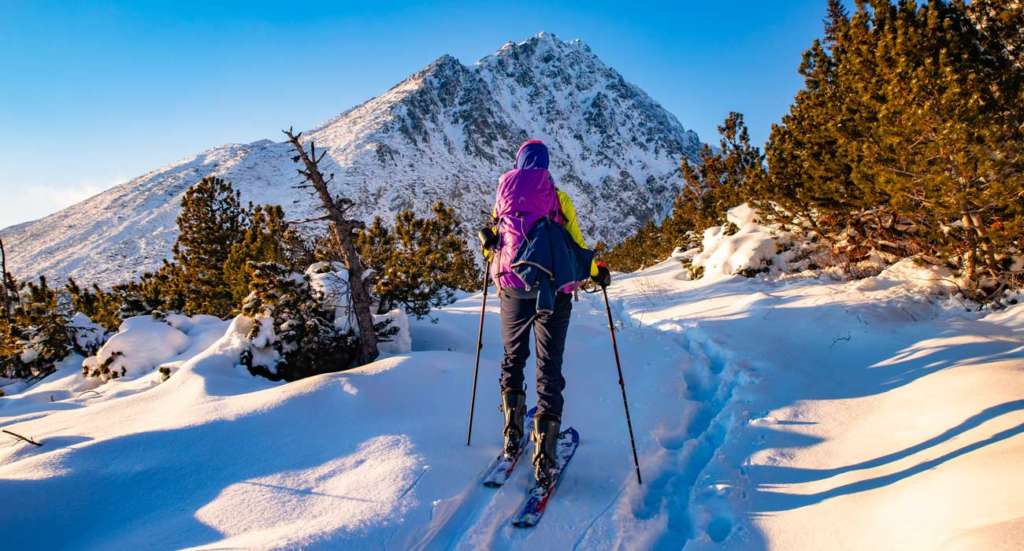 Ski mountaineering
The term "ski mountaineering" consists of two words – ski and mountaineering, i.e. climbing. This means it's skiing with elements of mountaineering. This alpine winter sport is becoming more and more popular every year.

Ski mountaineering as such includes elements of hiking, skiing and mountaineering. When performing ski mountaineering, we reach peaks, summits, saddles where climbing equipment (crampons, ropes, ice axes) and ascent and descent climbing techniques are often required. However, the activity that most tourists have gone in for recently is called ski touring.
Ski touring
"Ski touring" also consists of two words – ski and touring, i.e. it's touring or hiking with skis on. There are no climbing elements present and it's a rather calmer and safer activity in the mountains.

But not every ski touring is the same. We can do ski touring in the mountains (where it is allowed, of course), but many ski tourers often use ski resorts too.
Ski touring in ski resorts
It's important to check in advance whether the respective ski resort offers a ski touring trail and if it is subject to a charge. In the Jasná resort, there are marked ski touring trails on the northern as well as the southern side of Mt Chopok and every ski tourer should study the resort ski touring trails and map of trails in advance. The same applies to the resorts of Tatranská Lomnica and Štrbské Pleso, which offer marked trails for ski touring fans where certain rules have to be followed. If there is no official ski touring trail in a resort, ski tourers should always use the edge of ski pistes and climb one after the other, not side by side in order not to interfere with the piste traffic.

Ski tourers shouldn't use ski pistes outside of the opening times (it's forbidden in most ski resorts). It's dangerous mainly due to piste grooming which is performed every day after the ski resort is closed (or before it is opened) officially. Snow groomers often use winch cables, which can cause serious injuries to skiers if they don't see them. What's more, the snow grooming staff might not notice you, which is very risky.

Winters are different than they used to be in the past so let's be thankful for the chance to use ski resorts to do this beautiful sport. We should be considerate to alpine skiers, tourists and the resort staff and learn to get along well. Many of you must love off-piste terrain too and once there is enough natural snow, we set out for a journey.
Ski touring in off-piste terrain
Ski touring is ideal to enjoy the peaceful winter atmosphere and the snow-covered country in silence and without people. With tour skis, we can go to places which are difficult to access in winter. When compared to regular winter hiking, winter ski touring saves time. Skiing down the hill is shorter than descending on foot and it is a great adventure.

The conditions in the mountains can differ, of course, and downhill skiing is not always "a reward". There are lots of dangers in the mountains – avalanches, icy terrain or strong wind gusts so it's important to choose trails based on one's physical form, experience and the conditions in the mountains. Safety always comes first and if you are a ski touring beginner, easier trails or ski pistes are the best to start with. A video about the most frequent ski touring mistakes made by professional ski tourer Jakub Šiarnik in the Jasná resort might offer a variety of useful information.
This article has been created in cooperation with MTHIKER.sk. To read more about ski touring, please read the article in the MTHIKER magazine, which includes interesting details about the equipment and various suggestions written by Nely.