Discover the most beautiful views and moments in Slovakia.
For sports fans, keen skiers and active relaxation lovers
Štrbské Pleso is the highest located resort where everybody who loves sport will be in their element! The centre of sports adventures is tailored for skiers, cross-country skiers, ski tourers and simply everybody who likes active relaxation in the mountains.
KWhere to stay on your holiday in Štrbské Pleso?
Just a stone's throw away from ski pistes, cross-country trails and hiking trails, there is the sports Hotel FIS. It's the ideal choice thanks to its ski-in/ski-out location from where one can travel to popular Mt Solisko. And to enjoy your holiday to the fullest, ski passes are included in room prices but can be used also by non-skiers e.g. to make a chairlift trip to Mt Solisko or a cable car trip to Skalnaté Pleso, which is not far away.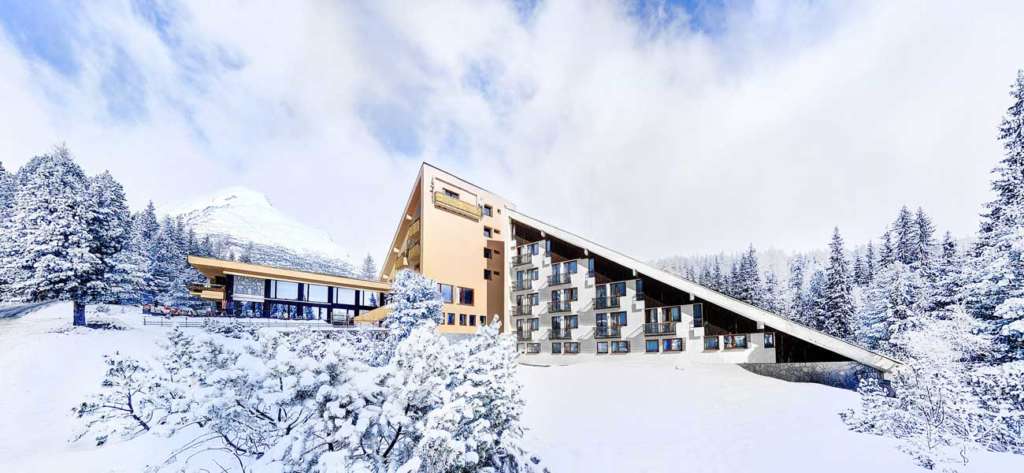 Did you know?
Štrbské Pleso is a MUST destination for everybody, but did you know that there are 26 km of cross-country skiing trails of various difficulty levels there? From easier ones for children and beginners to difficult trails in Furkotská dolina (valley). This is the ideal place where to try a new winter sport and find a new hobby.
Keen skiers will love it there, Fresh Track in Štrbské Pleso is one of the best skiing experiences in Slovakia. You can have the whole piste almost for yourself early in the morning and savour abundant breakfast afterwards.
For skiers, non-skiers and families with kids
Starý Smokovec is the one of the most popular mountain resorts in Slovakia is the perfect choice for families with kids, groups, hikers, skiers and non-skiers. In other words, everybody can find something for themselves in Starý Smokovec. If you dream of quality skiing, one of the steepest pistes in Slovakia is just a stone's throw away, only 7 km from Starý Smokovec.
Where to stay in Starý Smokovec?
Grandhotel Starý Smokovec is located in the historic heart of Starý Smokovec and is known as an inseparable part of the mountain village. Opposite the hotel, there is the lower station of the Hrebienok funicular, which makes the location ideal for all activities that you can think of. Whether you make a funicular trip to Hrebienok or spend a day by skiing in Tatranská Lomnica, ski passes and cable car trips are included in room prices so you can save money which you otherwise would spend on activities.

What should you avoid when in Hrebienok?
There is a nice winter activity that might add something extra to your trip to Hrebienok – sledging. But don't wear leggings or thin trousers there. Sledging is a winter discipline so you better put insulated waterproof trousers on. If you don't have any, the staff of the Tatry Motion shop next to the funicular lower station will be happy to help you choose some quality trousers. And you can save with Gopass there too.
The Tatra Temple of Ice is inspired by the Church of the Holy Sepulchre in Jerusalem this year. This Slovak rarity has been built already for the 10th time and symbolises peace and redemption this time. If you plan a spring holiday in the High Tatras, don't forget to visit it. The temple of ice is going to be there in Hrebienok only until mid May.
For those who love views of majestic peaks
Breathtaking views and top skiing below Mt Lomnický štít, this is how the perfect holiday in Tatranská Lomnica looks like. If you come to the High Tatras, you should definitely not miss Skalnaté Pleso. And what might sound surprising to you – the views from the second highest peak of Slovakia are the best in winter.
The most beautiful hotel in the High Tatras?
Traditional and luxurious Grandhotel Praha is tailored for family holidays as well as romantic breaks. It offers relaxation, massages and treatments, and the hotel gastronomy will be appreciated by the taste buds of all gourmets as well as classic consumers. A mini bus shuttles to the ski resort so that you don't need to deal with parking. What's more, ski passes and cable car trips are included in the price. And if you prefer water park relaxation instead, feel free to set out for Bešeňová or Tatralandia in the Liptov region. Or use the passes to make a cable car trip to Skalnaté Pleso.
There are no better views that those on Mt Lomnický štít where a historic cable car can take you. Coffee simply tastes different at the altitude of 2,634 metres! Visit the Dedo café and enjoy unique moments in the highest located hotel in Slovakia
There are several activities to choose from for all your crew members towards the evening.
The Dinner under the Stars is a unique event in the Panorama restaurant in Skalnaté Pleso at the altitude of 1,751 metres, combined with star and night sky watching and professional explanation of Astronomy institute scientists. It is ideal to be added to your family holiday or teambuilding. Or how about ending your evening on a grand scale? Humno in Tatranská Lomnica serves delicious food and plays also dance music later in the evening.
Have you chosen your ideal holiday in Slovakia? Book comfortably on gopass.travel.