Where to ski abroad? Let us show you a part of the Alps in Austria, where you won't get bored.
We have been looking forward to our holiday in Austria very much and had a look at resorts which we want to visit already at home on gopass.travel. We chose some that were quite close to each other. Plus there are lots of ski touring and cross-country skiing options. That's something for us so we are very happy to pack all kinds of skis (cross-country, alpine, touring) and hit the road.
The picturesque village of Mallnitz in the embrace of the mountains is our destination. We arrive there before the evening after an 8-hour journey from Liptovský Mikuláš. And why Mallnitz? The village is actually in the middle among five resorts where Gopass can be used. But first things first.
Day 1 – skiing on a glacier
Every morning is the same. Waking up at 7:00am, checking the weather and the conditions in resorts while having breakfast, discussing where to go, taking the skis and hitting the road. Mölltaler Gletscher located about half an hour away is our first choice. There is wind expected in the mountains, but it's not that bad. In addition, it should be stronger on the days after. Yhe resort is usually closed in bad weather and we wouldn't want to miss skiing there. It will turn out later that this has been a good decision as the Mölltaler Gletscher resort will really be closed later.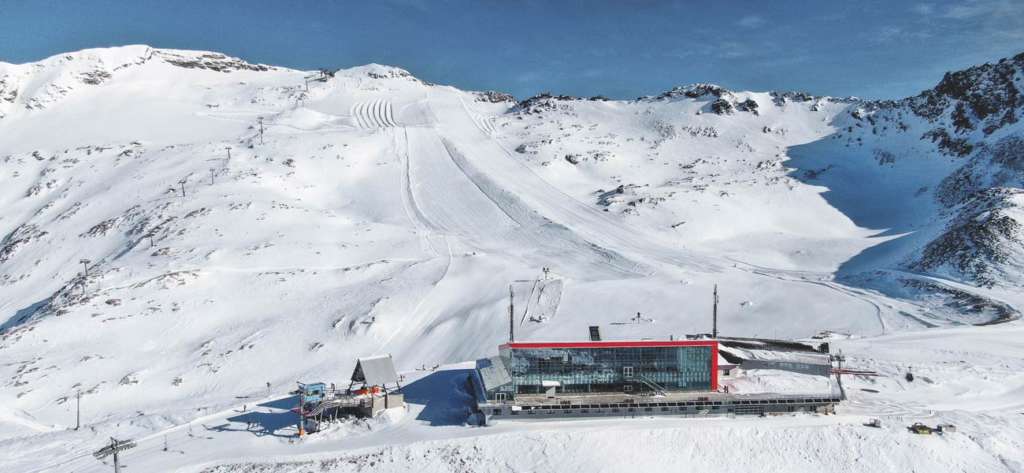 We park our car in front of the lower cable car station (for free), check the conditions in the Gopass app, activate our ski passes and go. The resort can be entered with a bit unusual funicular called Gletscher Express, which runs under a mountain. We get off and enter a fully different world in the embrace of the mountains. The Eisseebahn cable car follows and we cannot take our eyes off everything. There are wide untouched pistes before us and mountains everywhere we look. We are even not sure whether we should start skiing at first, feast our eyes or visit the Eisee restaurant with a huge terrace and panoramic views. So we decide to combine it and take a break after each hour of skiing to enjoy everything.
The weather is nice, sunny but the higher we get, the stronger is the wind. That's why the highest located pistes as well as cable cars and lifts are closed. We cannot get to the highest located point of the resort and Mt Schareck (3,122 m), which is a pity, but we at least enjoy skiing on open pistes. And by enjoying we really mean enjoying. No queuing, no crowds on pistes and we literally wonder how this is possible when not the whole resort is open. We don't rack our brains too much, though, and rather spoil ourselves with having the pistes sometimes only for ourselves. At three in the afternoon, the weather is already serious with the wind and the resort gets closed. A series of windy days begins, but that's not a problem for us at all. 🙂

Day 2 – cross-country skiing and relaxation in Bad Kleinkirchheim
The weather is really not good. Once we open the balcony door in the morning, it's clear to us that it won't be a skiing day today. The plan was to go to the Heilgenblut am Grossglockner resort located at the foot of the highest Austrian peak – Mt Grossglockner (3,798 m), but the wind is very strong there and the resort is closed due to it. The situation is similar also in two neighbouring resorts: Mölltaler Gletscher and Ankogel Mallnitz. All three of them are located in the highest mountain range of the Austrian Alps – the High Tauern, which are like cursed all week long. Never mind. We have plan B.
Not far away, a bit to the south, there are 2 more resorts on our list. The weather there should be much better, but there is not so much time left so we decide to go cross-country skiing in the end and head for Bad Kleinkirchheim, a small town located an hour away, which is literally the heart of a huge ski resort. But let's talk about that later. Today, we are going to explore cross-country skiing trails and there are lots of them here. We fell for the town already at home and planned to experience 3 things there – skiing, cross-country skiing and wellness relaxation. And after we have arrived there, we like it even more. And the weather too. No wind, just sun. Really a completely different world.

We arrive at a free car park next to the Thermal Römerbad spa, where cross-country skiing trails begin and so does one of local cable cars. Only one 8-kilometre-long trail is groomed these days, but there are much more trails available. It is really like a fairytale. The terrain is rather flat, with a small hill here and there, everything goes swimmingly. It is ideal also for beginners. After completing the trail 2 times, we are fully satisfied. Sauna bathing is a must after skiing and we like saunas very much so we cannot wait to visit some.
We start with the pool section which is not very big. But the outdoor pool tells its own tale. Swimming right below a ski piste has something about it. However, we never splash around water too long and head to the sauna section. And this one cannot be described even with photos (although they cannot be made there). Simply WOW! We would need a whole day to visit each sauna. And not only saunas but also other pools with even better views, whirlpools, ice tubs… If you are a sauna lover, feel free to spend a whole day there. It is the ideal choice for days when the weather gets worse. Relaxed, satisfied, happy and tired in a nice way, we end our second day.

Day 3 – Goldeck basking in the sun
There is a strong wind reported for the High Tauern again. So we decide quickly in the morning and set out for the south again. This time, the Goldeck resort is our final destination, located only half an hour away from our hotel. We board a cable car from the lower free car park already at nine. It doesn't take long to surmount 1,233 altitude metres and a more than 3-kilometre-long distance to Bergstation (upper station). And that's where a true paradise for skiers begins.
The resort is not that big, there are 25 km of groomed pistes, 2 ski lifts for children and 2 chairlifts. We use both of them all day long and skiing is really great here. There are no signs of wind in this southern region and it's almost hard to believe that there's a gale only a few kilometres away. And the pistes? Wide, groomed, flawless,… I won't praise it to the skies, but like on the Mölltaler glacier, they are top-class here too. The slopes are rather mild, with blue and red pistes. That might be the reason why we meet a lot of children here. The resort is ideal for families and learning skiing, but advanced skiers can enjoy themselves too. And as there are no queues at cable cars (no idea if that's always like this or we only were lucky this time), one really has enough after a whole day of skiing.
We don't want to wear ourselves out, though, and find a stunning outlook spot at the highest located point of the resort – Mt Goldeck (2,142 m), where we have been making breaks in the course of the day. The view of the Julian Alps is breathtaking from there. The visibility is just perfect and we can even see Mt Mangart, Mt Triglav and other giants.


We leave Goldeck with a nice suntan and expectations what the weather has planned for us on next days. Will the wild wind leave and can we enjoy skiing below Mt Grossglockner?
Or will it get even worse and will we have to stay in our hotel rooms?
Read the next chapter about our holiday.
This article has been created in cooperation with MTHIKER.sk.