The first three days were beyond our expectations in spite of the weather in the mountains. But we say a final goodbye to the sun now and enter a kingdom of snow.
Day 4 – powder snow in Bad Kleinkirchheim
As strong wind has been joined with heavy snowfall, it's clear that time for Ankogel and Heiligenblut hasn't come yet. So we set out for the south and the Bad Kleinkirchheim mountain town again. We were looking forward to this resort very much and checked the pistes already from pools when relaxing. And now we are finally here. The snowfall is heavy, but we are lucky not to witness the wind arriving to this region.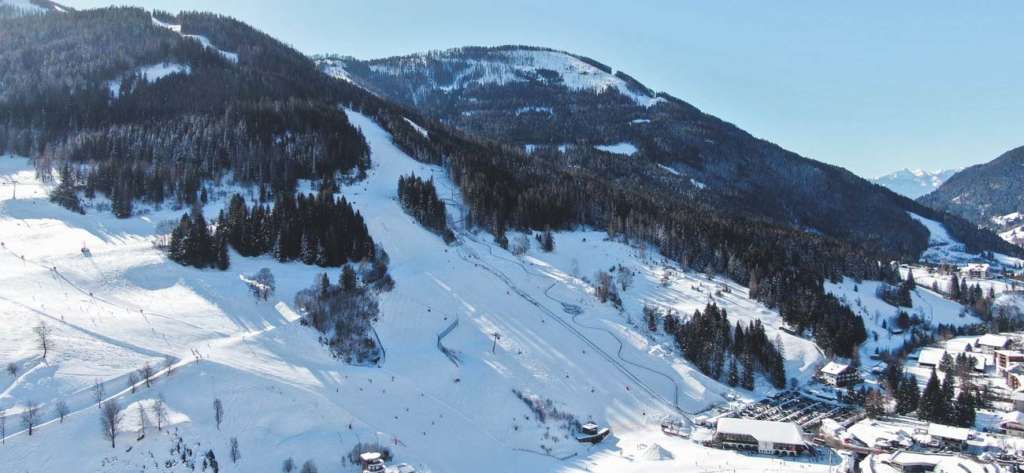 We have chosen the highest located entrance point of the resort – St. Oswald. It isn't that easy to get there as the road is neither groomed, nor gritted… To be honest, we are really scared at times. But we achieve the final destination successfully and put our skis on. This time, it's touring skis that will do better in the fresh powder snow.
The resort offers more than 100 km of pistes that are interconnected by 24 cable cars and ski lifts. The whole town of Bad Kleinkirchheim is surrounded by pistes and one can literally travel from one spot to the other. Everything is open, there are no malfunctions, no wind. How to manage everything? It's not possible within one day so we have decided for a gradual moving strategy from one edge (St. Oswald) to another (Thermal Römerbad) and back.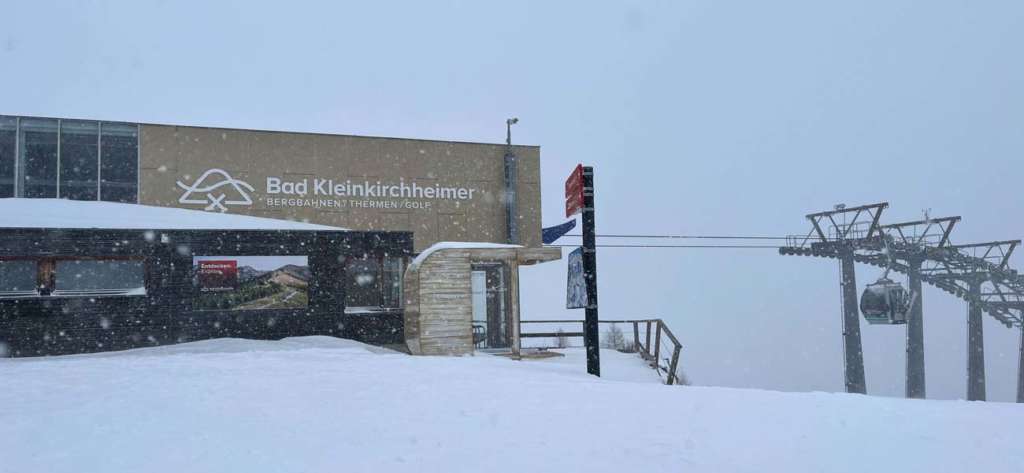 Almost all pistes are red here, i.e. medium difficult. But we rather choose forests and ungroomed terrain on the edge of the pistes this time. We have finally experienced powder snow and cannot miss this after all. If you love off-piste terrain, you'll find it everywhere here. The resort is not located at high altitudes, the highest peaks reach the similar level as Mt Chopok in Jasná. So there are lots of forests and not much wind. It's ideal if strong wind is blowing at high altitudes. The views from the highest peaks must be lovely there, but we don't enjoy them this time and rather spoil ourselves with a snow-covered atmosphere and fresh snow.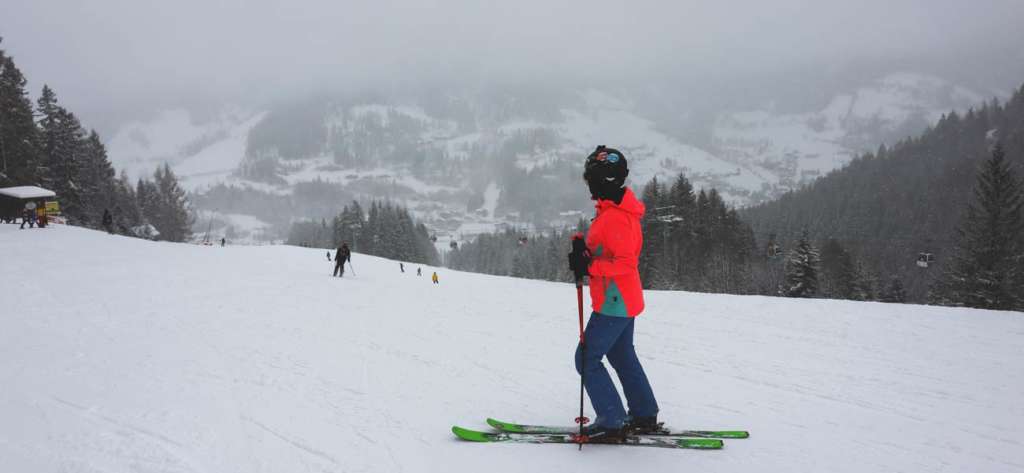 The journey from one end of the resort to the other one and back takes the whole day. A cable car at Therme St. Kathrein could be a great resort entrance point as well and so is the already mentioned Thermal Römerbad spa, where one can jump into a pool right after skiing. We skip the wellness relaxation this time. We have enough after the whole day and are really tired on the fourth day so we prefer our beds to pools today.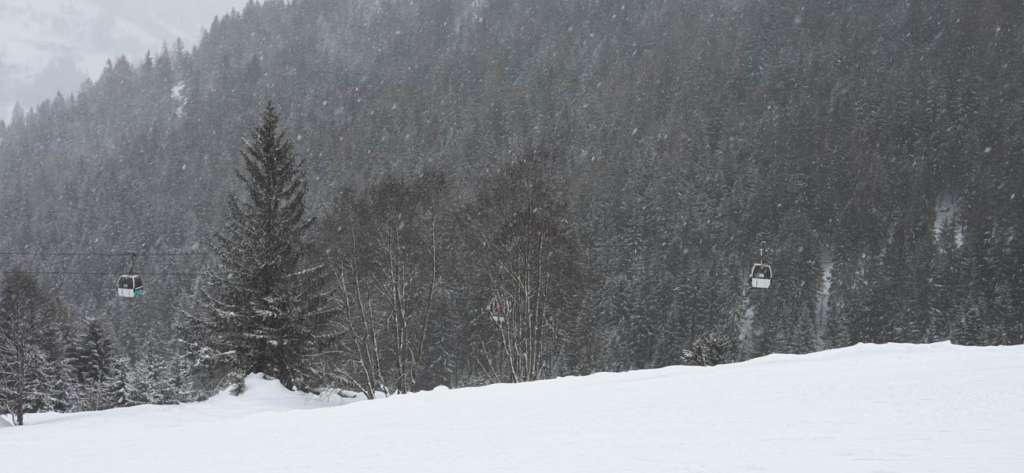 Day 5 – what does Heiligenblut offer?
The first thing we do in the morning is checking the weather and hoping the wind will calm down finally. It has, partly, but Mölltaler is still closed. The Heilgenblut am Grossglockner resort should be open, though, even if not everything there but at least a part of it. Our holiday is getting shorter and as we don't want to miss this resort and the beautiful little town there, we hit the road. Cross-country skiing trails are also a part of our plan, so we pack those to and go.
We park our car in an underground parking garage which is free and walk to a small cosy square with a beautiful atmosphere. It is dominated by a stunning and high church with majestic mountains in the background. This definitely needs a photo to be taken. It looks like a postcard. Really. Cross-country skiing trails can be seen from the square and they look really attractive, but we head for ski pistes first. A cable car runs from the square to the Mittelstation Rossbach interchange station, from where one can continue in several directions. There are 55 km of groomed pistes and iconic views. Unfortunately, we can get only to the eastern resort section where an underground funicular runs through a tunnel. This way of transport under the mountains is really fascinating. They did (and dug) a great job here. 🙂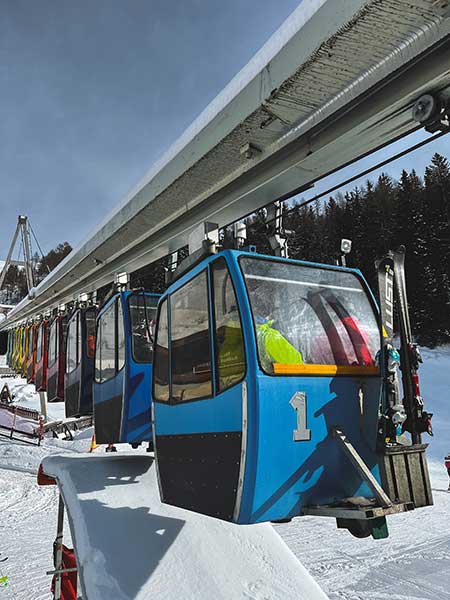 We continue from the Fleissalm station with a chairlift to the altitude of 2,470 metres, which is the highest located point that we achieve today. Unfortunately, the following ski lift as well as other resort sections is closed. We don't miss majestic Mt Grossglockner, though, and can admire it also from lower-located pistes. It's a truly magical mountain, we have to go there one day. 🙂 We ski for a while, but the weather gets worse and worse. Well, the mountains are unpredictable. At least there is always another alternative. For us, it's cross-country skiing this time.
We spend the afternoon down in the town where quite flat trails are hidden in a mountain embrace. The wind starts to blow also there, but this doesn't discourage us from our plan. There are more cross-country skiing trails here like in Bad Kleinkirchheim, but only 2 of them are groomed. That's just enough after our alpine skiing morning, though.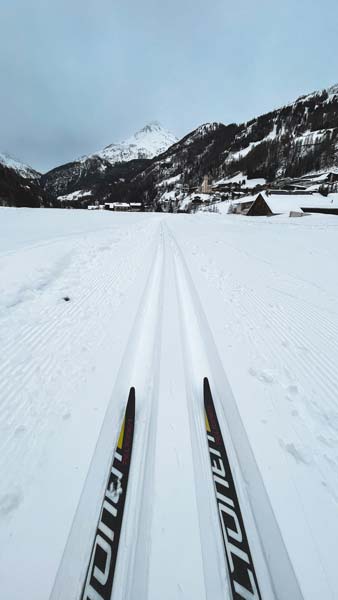 Day 6 – ski touring to Ankogel
Time flies by too fast and we have the last day and the last resort ahead of us. Hopefully, it will be open. Ankogel, which is close to our accommodation establishment, was left for the end of our holiday willy-nilly. We open our Gopass app in the morning and hope for positive news. The weather is getting better, thank God, the wind should calm down in the course of the day and the lower cable car is open. Whoopee! Bad news is that the upper cable car is closed again. We don't let this put us off, though, take our touring skis and set out for Mt Ankogel.
It takes only a few minutes to get from Mallnitz to ski pistes. There are 2 smaller ski lifts on one side of the road, ideal for children. On the other side, the pistes are rather steep and 2 cable cars run there. Only one of them is open today, which is a pity as there are several pistes in the higher located section and only one, partly narrow one is down here. We are very lucky to have our touring skis on. We activate our ski passes in spite of that and board a retro cable car. As we have Smart Season Passes, this definitely needs to be used. They are valid here and also on the Möltaller glacier. We enjoy a few rides there and zip down the pistes, but the wind really starts to calm down around noon, which makes us go higher, of course.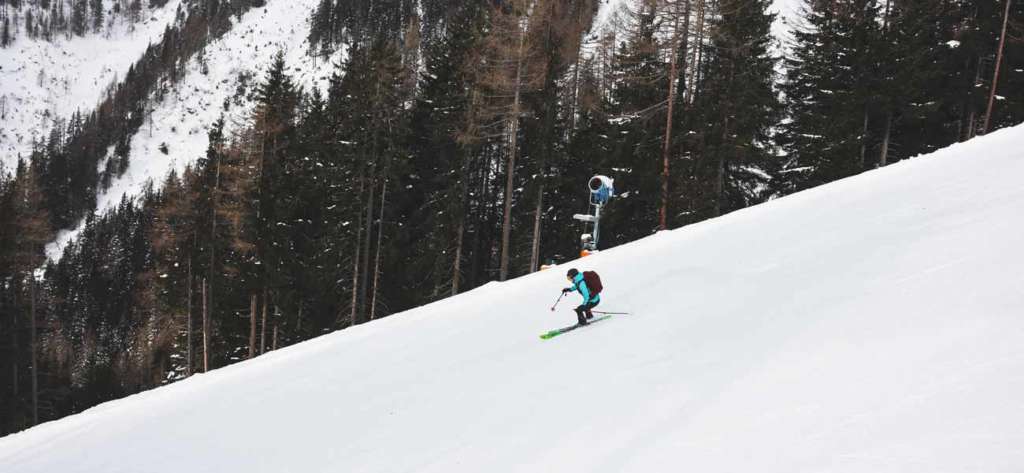 We put on our climbing skins and walk up from the car park. The ski touring trail runs along a ski piste at first but joins a nice path later and continues into a forest. As the sky is clearing up, more and more views of the resort and the mountains are opening up. The higher we get, the more majestic are the mountains around. It's a great change to enjoy a nice tour when the sun starts to be cosy and warm. It literally recharges our batteries and we reach the middle station.
It looks like the upper cable car won't be opened today. Never mind, we are charged with the sun energy and continue walking up. Comfortably along a ski piste. The avalanche situation is not good these days (grade 4), so we had to cross out ski tours from our plans completely. As we get higher and higher, we can see a few fallen avalanches on surrounding pistes. Just below the highest located cable car station – Bergstation Hannoverhaus, we can see a break-off so we rather don't risk and turn round. What a shame. We were supposed to enjoy a view of Mt Ankogel (3,246 m), which must be worth it. One can get there with tour skis too. However, we ski down and end our Austrian discoveries.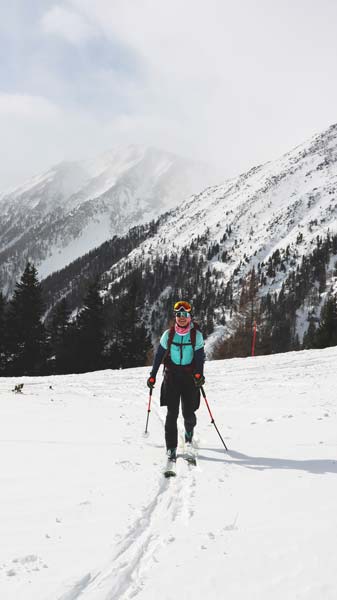 There are cross-country skiing trails also at the lower car park, but that's a plan for another time. Let's hope the weather will allow us to make some ski tours and ski in areas where we couldn't get this time. We pack our bags and return home on the next morning. And as it usually happens, a series of sunny and windless days starts just after we leave.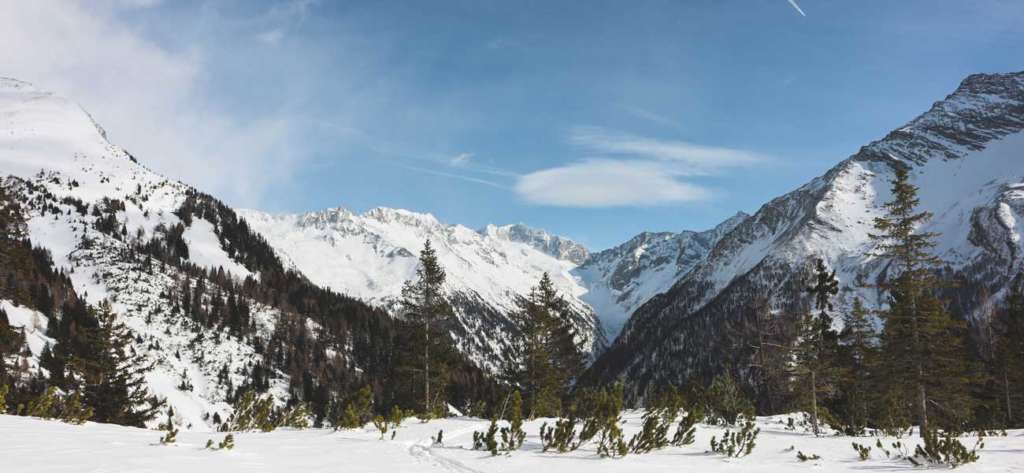 Summary
The decision to stay near several resorts was undoubtedly a good one. The weather cannot be booked, especially not for a 1-week holiday and in such mountains. But in these 5 resorts where Gopass cards offer not only ski passes but also several services and can be used in restaurants and wellness centres, it's easy to make a programme for a whole day. Is Mölltaler closed? No problem. Let's go to Goldeck. Are you tired after skiing? Relax at Thermal Römerbad all day long. Is the weather finally better? It's glacier skiing time. Or how about freeride below Mt Grossglockner? Everybody can find something in this region. Including ski touring as there are trails in the mentioned resorts, but one can make tours in the mountains practically anywhere here.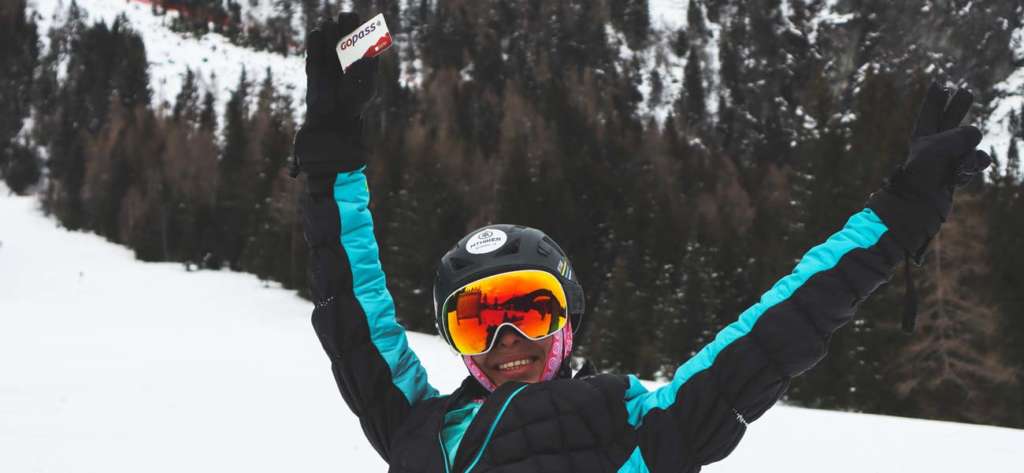 We will be happy to repeat this kind of holiday another time for sure. If you plan to come here, it doesn't have to be about five resorts like it was in our case. One or two would be enough. If the weather is good, you will have a lovely holiday. And if it isn't, nothing is lost. One needs to adapt to the weather and this place is ideal for all Smart Season Pass and Gopass card holders. Gopass benefits can help you be more flexible also in bad weather without worrying that you'll have to stay in your hotel room only.
This article has been created in cooperation with MTHIKER.sk.