The gradual transition of plastic Gopass cards to the digital platform moves holidays and related services to a higher level while making them pleasing for the soul and the wallet as well.
Thanks to Gopass, I can not only plan my whole holiday in the mountains in detail but also avoid queuing at ticket offices and compare my skills with other skiers or tourists who have similar preferences. But first things first.

Vladimír Šarafín, operations manager of the Gopass programme
The card is changing form
It all began with the idea to create a loyalty programme that would reward visitors of mountain resorts and collect information about their interests and needs. Gopass was supposed to help clients buy various services and to identify them while using those services thanks to their loyalty cards. Points were collected for purchases and could be redeemed for discounts on other products and services. But the offer of services was gradually growing and it was only a matter of time until a platform would be created to cover everything. "We monitor the wishes of our clients in our resorts with great attention and constantly add new services and benefits to our offer.
It's not only a ski pass or an aqua pass anymore. We have created a platform where people can buy event and concert tickets to enjoy themselves in our resorts, cable car tickets in winter as well as summer, ski school, ski rental, bike park services, water park tickets," specified Vladimír Šarafín.
However, the plastic card itself is on the wane and is slowly but surely leaving our wallets. Gopass keycards CANNOT be used to pass turnstiles with tourist tickets in Slovak mountain resorts anymore. QR codes in mobile phones will replace the plastic cards that will serve for skiing only.
Everything else can be done with smartphones. The registration process is very simple and the world of unforgettable moments and adventures in Slovakia, Czechia, Poland, Austria and now also in Italy can open up to everybody who wants to spend time with their loved ones and friends.
One-stop shopping
The gopass.travel online shop is a significant part of the programme and enables every tourist to enjoy a tailor-made holiday. They only have to choose the country, the favourite resort and the preferred type of activity to get a complex offer summary. We do our best to constantly keep extending the scope of services that are available via Gopass. This is one of the reasons why we plan to add also resorts outside of the Tatry mountain resorts holding. In addition to better ski pass and cable car ticket prices, clients can also collect points and redeem them for other services in our facilities and establishments. Recently, Italian and Austrian mountain resorts as well as Czech and Slovak golf resorts have been added to our offer, more attractive hits from our external partners should follow in the course of time.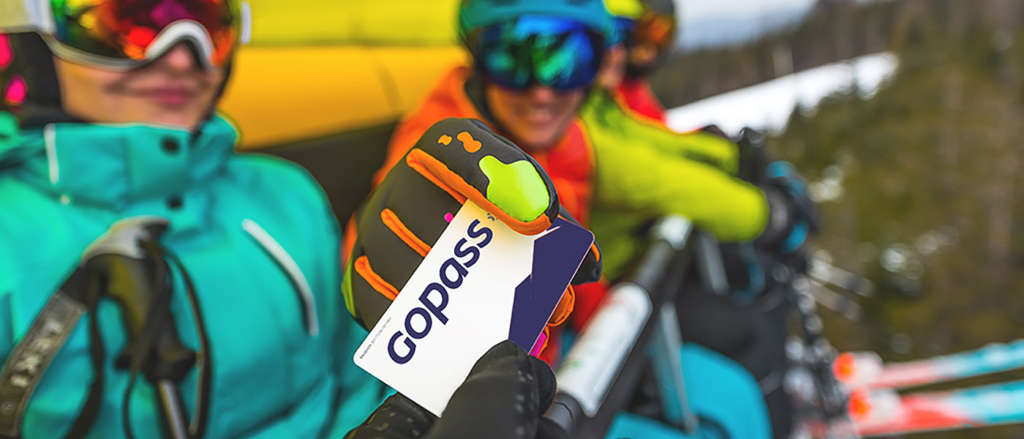 The future is digital
What's in a smartphone, that counts is the motto of Gopass too. All loyalty card details can be uploaded to the mobile wallet and used at cash desks or self-service ticket machines if needed. What's more, clients can check the number of their loyalty points and completed piste kilometres, compare their abilities and skills with other skiers or tourists. However, the ambitions of the Gopass "godfathers" are much more complex and it is indeed possible that banking elements will be added to the features one day.
"The Gopass account can already be topped up with credit and this can be used to shop online or pay for services in resorts. If anybody doesn't have cash, they can pay with credit for example in restaurants. We want to make everything as comfortable as possible, especially for families with kids. When kids are in our ski school and there is enough credit on their cards, they can use them to buy tea or a small refreshment," explained Vladimír Šarafín. It's clear that digitalisation has entered the world of tourism as well and its role will only be growing in future. Because it saves not only money but also time.
Mountains saved in an app
The Gopass app is used by more than 150,000 people who can find the latest updates about weather in resorts and the cable car operation there, follow webcams, check their skiing statistics, buy services, search for cycle routes and tourist trails. "It's mainly the summer tourists that we are preparing more improvements and challenges for. The most active tourists will be motivated to complete more kilometres, visit more places and surmount more hills by bike. We also want to focus on our loyalty programme and make it more attractive than before," announced Vladimír Šarafín in connection with planned revolutionary changes. The goal is clear – to provide services that people are most interested in and to create an irresistible tailor-made offer. That's why Gopass can very well be considered a sort of a mirror of the soul and mind of every mountain visitor. No wonder that each look in it can gladden the heart of all passionate holidayers. And the mobile app is the direction that mountain resorts want to follow in future.