New cable car getting ready for the first tests!
The first of 25 cabins of the new cable car in the Jasná ski resort is there. The modern transport facility that is meant to link the areas of Biela púť and Priehyba shall be opened in early winter.
The investment in the amount of EUR 17 mil. is coming to an end. Less than three months before the beginning of the winter season, the construction process of the new cable car has moved a significant step forward. The first cabin has been attached to the cable car rope to help set the whole technology.
The cabin will help set the connections at individual stations. Guide profiles in the stations will be set as well. The cabling and distributors of the lower station will have to be installed. More cabins will be attached meanwhile and parked on a parking rope, then engineers will come to install the software and start with the technology function tests. As for us, the whole process will end with brake tests with full cabin load. Only then, the completion certificate can be issued and the cable car can be handed in to the resort.

Tomáš Fried, Doppelmayr Slovakia company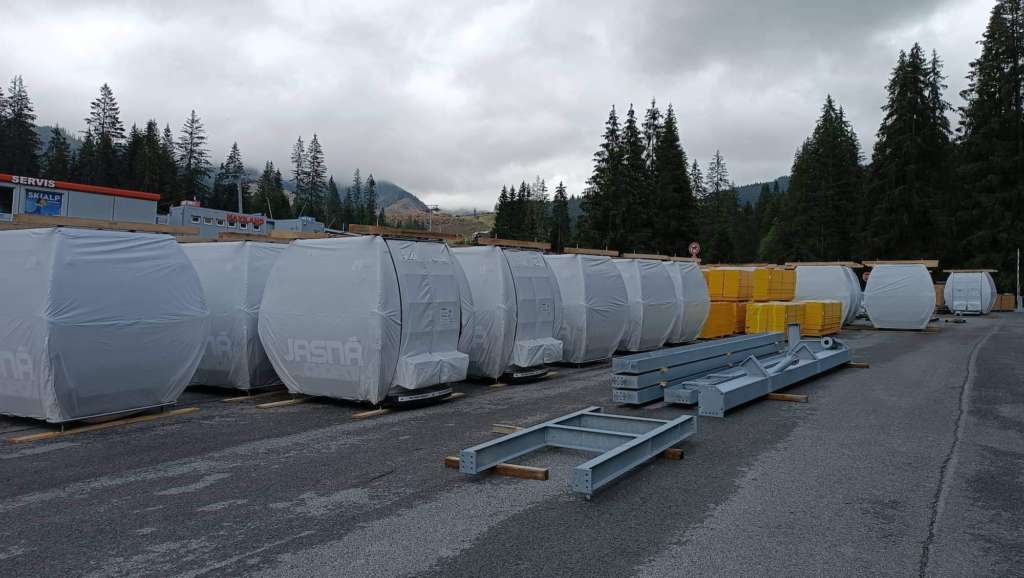 The construction of the new cable car that had been planned for long started in Jasná last year and the first passengers should be able to use it in the winter of 2022/23. It shouldhelp solve the biggest problem as for transportation of skiers and tourists from Biela púť to Priehyba. It was very complicated and took too long or passengers to change from the existing 4-seater chairlift to the Twinliner funicular, where long queues were formed regularly, the place was overcrowded. In addition, the cable car will help supply the restaurants in the resort and this will reduce the use of snow groomers and the carbon footprint. It will be a wheelchair-friendly transport solution, which will make it easier for families with prams and disabled with reduced mobility to travel. The lower cable car station will not only include the cable car technology and other necessary facilities but also 65 parking spaces of the original car park where the construction will be built.


Jasná wants to open the 2022/23 winter season already during the first December weekend if the weather is good. Until the end of September, skiing fans can buy PREMIUM Smart Season Passes 2022/23 on gopass.travel in advance, however, the number of passes at the currently best price is limited. The season passes are valid in Slovak ski resorts: Jasná (Chopok) and Vysoké Tatry as well as in Szczyrk (PL), Špindlerův Mlýn, Ještěd (CZ), Mӧlltaler Gletscher, Ankogel, Innsbruck Muttereralm (AT).
Facts:

The new cable car is ready and you?
Buy ski passes at the best prices on gopass.travel or enjoy the whole winter with a Smart Season Pass in 10 ski resorts